Starbucks Franchise in India: Coffee is one of the most popular hot beverages in the world today. A lot of people are unable to start their day without having a cup of coffee first. It has become an essential part of people's daily lives. And when it comes to coffee, there is no name bigger than Starbucks. Over the years, Starbucks has managed to make a huge name for itself in the coffee shop industry. It is the most popular coffeehouse chain in the world by a long way. No one even comes close to its popularity. Also, Starbucks is mostly located in prominent locations where there is high footfall like malls and airports. So, if an individual is passionate about coffee and has the money and willingness to invest in a coffee company, there is no better option than Starbucks.
About the Company:
Starbucks Corporation, an American company and coffeehouse chain, was founded in 1971 in the city of Seattle, Washington. The company was started by Jerry Baldwin, Zev Siegl and Gordon Bowker who met each other while they were students at the University of San Francisco. The name 'Starbucks' came into existence when the three founders started thinking of names that started with 'st' as they believed that those words to be powerful. In the end, they finally agreed on the name 'Starbucks' which was the name of a character in the novel 'Moby Dick'.
Starbucks is considered to be the brand that popularised 'second wave coffee', which refers to artisanal coffee particularly dark roasted coffee.
In 1987, the owners of the company sold it to its former manager Howard Schultz, who then managed to open 46 Starbucks stores in Midwest and Northwest by 1989. In June 1992, when the company was first put on the stock market through an Initial Public Offering (IPO) to the public, Starbucks had 140 outlets. Today, Starbucks has its presence in 6 continents and 78 countries. The company has around 30,000 outlets across the world.
Why is Starbucks not a franchise?
Today, franchising is the method many large corporations choose to grow their business. In this method, an investor who is called the franchisee pays a certain amount of money to a company in exchange for the company's proprietary knowledge, trademarks, and recipes. The franchisee uses the company's name to run his business.
Howard Schultz of Starbucks decided to go against the model of franchising in order to protect the quality of the coffee and to have proper control over the whole business. This decision has been turning out well for the company as with the help of superior customer service and creative marketing, Starbucks is growing by leaps and bounds in the coffee industry. Howard Schultz sees franchisees as middlemen as does not want them between the company and the customers. He believes that it is the interaction between customers and employees that is important and focuses on training the employees not only on how to make coffee but also how to greet and interact with the customers so that each customer gets a personal and homely experience.
Starbucks in India: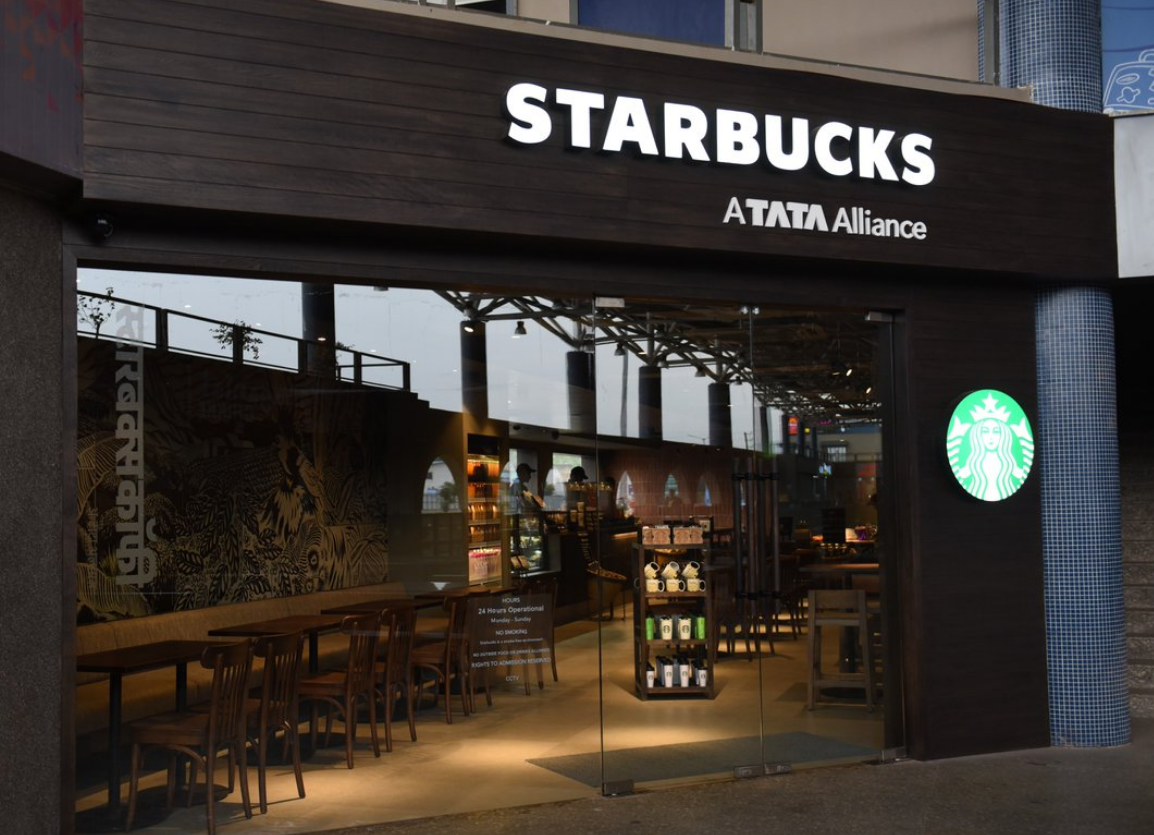 In January 2012, Starbucks got into a 50 – 50 joint venture with Tata Global Beverages. This led to the formation of Tata Starbucks Private Limited which now owns and runs the Starbucks outlets in India. Starbucks 'A Tata Alliance' – this is how all the outlets are branded. The first Starbucks outlet in India opened in the city of Mumbai in 2012. As of now, there are 140 Starbucks outlets in the cities of India. Food items like Tandoori Paneer Roll, Chicken Kathi Roll, Murg Tikka, Malai Chom Chom Tiramisu, Chocolate Rossomalai Mousse and Elaichi Mewa Croissan are sold in Indian Starbucks stores to appeal more to the customers.
How to get a Starbucks franchise in India:
One thing that must be noticed is that Starbucks does not offer any franchise to individuals. But one can have a licensed store of the company in a selected location. In this case, the individual would not be the owner of the outlet.
The first thing that an individual has to do if he or she wants to run a Starbucks store is to buy or rent a place in a prominent location where there is a high footfall. Once that is done, the next step is to go to the company's website and apply for a Starbucks license by filling out an application form. Certain personal and official information needs to be filled in the form by the applicant. The company then reviews the application to check whether the individual is suited for the task or not. After that, the applicant is called for an interview by the company. Questions about investment capacity, location of the store etc. will be asked to the applicant by the people at Starbucks.
If the people at Starbucks are convinced that the individual is capable of running the store, they give him or her the license. After that, products and necessary training will be provided to the individual and his or her staff by the company.
Starbucks franchise cost in India:
There is no solid information available on the internet as to how much it costs to run a Starbucks store. An individual should visit a Starbucks outlet and do their own survey before coming to a decision. That being said, there are some costs that will need to be borne by an individual. It will take a significant sum to own or rent an outlet and get a general food license. Salary to the staff and interiors of the store will cost money. He or she will also have to pay a certain amount of money as fees to the company. The cost of investment will also vary depending on the location of the outlet.
Starbucks franchise profit:
There are no specific numbers or statistics to show how profitable Starbucks is as a company. But a person running a Starbucks is bound to earn significant returns. This is because of Starbucks' established brand name, its high-quality coffee along with other products, superior customer service and the loyal fan base. A mixture of all these factors gives enough assurance that a person investing in the company can expect huge gains.
Starbucks Franchise Contact Information:
If an individual wants to get in touch with the support staff of Starbucks, they can make use of the following information:
What is the best place to open a Starbucks store?
If you haven't been familiar until now, Starbucks doesn't offer a franchise model, which means that while you can't open a franchise of this coffee chain, you can go ahead and own a licensed store but the process is very selective. You can find insights on that in the article.
But, coming to the point, "Where should you consider opening a Starbucks?" When it comes to India, Starbucks is considered "high-end" given the prices of the coffee and the other drinks that are available in their store.
So, if you want the company to flourish, you have to ensure that you are focusing on opening the store in urban areas where the footfall comprises people who can afford the coffee without any hassle.
FAQs Regarding Starbucks Franchise India:
1. Does Starbucks give franchise in India?
Answer: No, Starbucks does not offer franchises to individuals. If one wants to be involved with Starbucks, he can apply to the company for a licensed store.
2. How much does a Starbucks franchise cost?
Answer: There is no specific information available on the internet regarding the amount of investment required to become an owner of a Starbucks franchise. Although there are some obvious costs that an individual will incur in order to run a Starbucks outlet. Space for an outlet, general food license, salary to the staff, interior decoration etc. are some of the expenses which will be incurred by an individual.
3. Can I get a Starbucks franchise?
Answer: No, Starbucks does not offer franchise to individuals but one can apply to the company to run a licensed Starbucks store.
4. Are Starbucks individually owned?
Answer: No, Starbucks stores are not individually owned as the company does not follow the business model of franchising.
5. How to apply for a Starbucks franchise?
Answer: An individual can apply for a license to run a licensed Starbucks store. To do this, one needs to visit the official website of the company and fill out an application form applying for a license. After the submission, the application is reviewed by the support staff of Starbucks to check whether it is a suitable candidate or not. After that, the candidate is called up for an interview by the company and asked questions about his or her investment capacity or location of the store etc. After that, the company decides whether to give the individual the license or not.
6. What support facilities are provided by Starbucks?
Answer: Once an individual gets his or her Starbucks license, he or she is given the Starbucks products by the company. Training is also provided to the individual and the staff by the company.
7. What are some good coffee shop franchises to invest in?
The definitive answer to this question is Starbucks. There is not a bigger name in the coffee market in the entire world today.
8. How many Starbucks stores are there in India?
THere are more than 140 outlets spread across various cities in India.
9. What are some of the food items sold in Starbucks outlets in India?
Apart from their wide range of coffees, Starbucks also has a great food menu which includes delicious items like Tandoori Paneer Roll, Malai Chom Chom Tiramisu, Chicken Kathi Roll, Chocolate Rossomalai Mousse and Elaichi Mewa Croissant.
Final Words:
When it comes to coffee, no name than Starbucks in the world. The continuous growth of the company, its brand value and its loyal customer base are clear indicators that investing in Starbucks is a great idea. So, if someone is looking to invest in a coffee company, look no further than Starbucks. So it was all about Starbucks franchise in India. Hope you could find it helpful.